What I Ate Wednesday #22 &… A Winner!!!!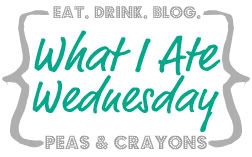 Happy Wednesday everyone! This week we finally got to try the Boardwalk on Bulverde! We've been trying to visit this "park" of food trucks for a while now, but every time we tried to go it was closed. Luckily, we did some research ahead of time & checked out their facebook page to ensure a successful visit!
We did a couple laps to see what we were working with & then sat down to formulate our game plan. We decided to try a little bit from each of the trucks that looked interesting, or interesting enough. In all honesty we were a little disappointed with the options. We were hoping for some more creativity. We had to constantly remind ourselves that this is San Antonio & not an episode of "Unique Eats" on the Cooking Channel (love that show).
Pictured are two selections we made that we found to be the best in terms of creativity & taste. The first picture is of fried avocado balls from a food truck called "Winner Winner Chicken Dinner". The second picture is of an order of cheeseburger eggrolls from the "Hippie Chicks" truck. I won't go into explicit detail but the majority of the foods we tasted were fried & heavy. We took bites of what we needed, enjoyed it, & tossed the rest. Even though we made it a point not to gorge we still left feeling a little sluggish & icky.
One of my favorite salads this week was a giant "mexi-cobb" knock off from Chuy's. It contained baby spinach & swiss chard as the base.  Layered on top was red cabbage, avocado, carrots, feta, pico, chickpeas & green chiles. We also baked some chicken thighs & shredded some of the meat on the side. We used Trader Joe's Cilantro Dressing. It was so yummy!
On Sunday I was feeling inspired so I decided to try my hand at making "pie pops". I made a filling out of raspberry, strawberry, orange zest & chia seeds. For the crust I used half butter & half Earth Balance. They didn't turn out exactly the way I was hoping. The sticks definitely weren't stable enough for these baby pies to be eaten as pops. However, everything else was wonderful! I couldn't get over how flaky, tender, & flavorful the pie crust was! Normally I don't receive such great results using whole wheat pastry flour in pastry crusts. I'm thinking the combo of fats was the key! Once perfected, I'll be sharing the recipe for sure!
Now on to the good stuff.
Being that everyone who participated in the giveaway had some awesome tips, I couldn't decide on a winner. Therefore, I drew a number & came to the selection that way. Thank you to everyone who took the time to comment!
The winner of the Johnny Carino's Italian Grill Giveaway is:
Elle@thewaybyelle.blogspot.com says:
I know this may sound odd, but if I know I'm going to eat someplace that has few healthy choices, I like to eat fruit or veggies or a salad before I go out!
Congratulations! I will email you sometime within the day/afternoon to get your mailing address. You will receive your $25 gift card to Johnny Carino's shortly!